PESCO Smart Spider Power Ascender PSJ120-8
11/28/2022


PESCO Smart Spider Lift Power Ascender PSJ120-14 for Irata Rope Access
03/27/2023
PESCO Smart Spider Powered Ascending Device PSJ120-11
Grid Powered Ascending Device, High-Speed Mini Powered Ascending Device, Motorised Ascenders, 
hoist controlled by phone, hoist ascender, multiple lines powered rope ascender, portable hoist a multiple-rope, 
rope access ascender descender device, abseilers ascender device, rappelling ascender, 
tower spider ascender device, blade repair ascender device, confined space ascender device, 
rope rescue ascender device, wind turbine service ascender device, rigging ascender, rigging descender, 
rope ascender, rope descender

Get a quote
Share
Description
Model PSJ120-11:
The size: 370mm*255mmm*275mm,
The Weight: 12.5kg,
The Power: 500W
The Voltage: 36V,
The Battery Capacity: 20Ah (IEC 62133),
Maximum Safe Lifting: ≤120kg,
Maximum Speed: ≤11m/min,
Remote Control: Yes
Automatic Lock When Switch Off: Yes.
Including the device*1, 14mm* 20m rope*1, remote control*2, Charger*1, D-Shape Climbing Lock*1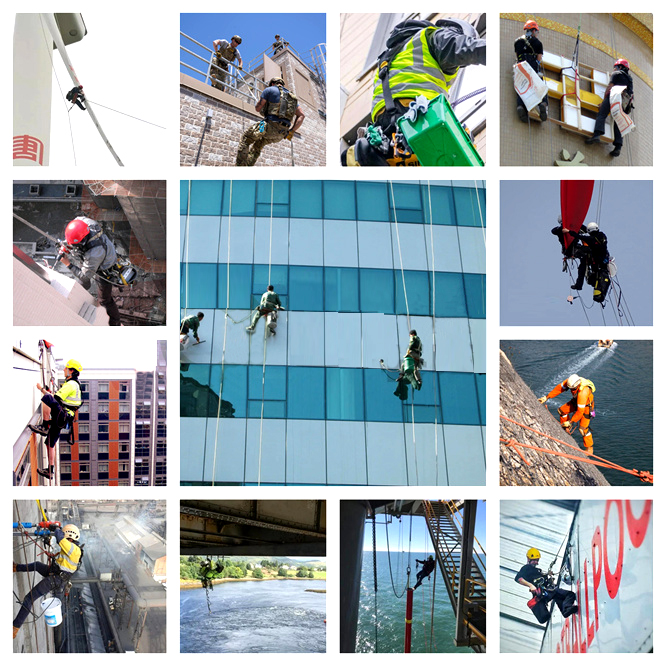 PESCO Smart Spider Powered Ascending Device PSJ120-11 with multiple core functions: high torque, App control, hand up to stop, fast charge, rich scenes, super high face value.
A hot-swappable battery to keep you moving all day,
A thumbwheel-trigger speed-control for easy operation,
A secondary lock for hands-free work,
Integration with a wide range of climbing technology,
Manual and wireless APP multiple modes of operation, more convenient. Suitable for wind power, high-altitude operation, rescue, outdoor, munitions, fire fighting, etc.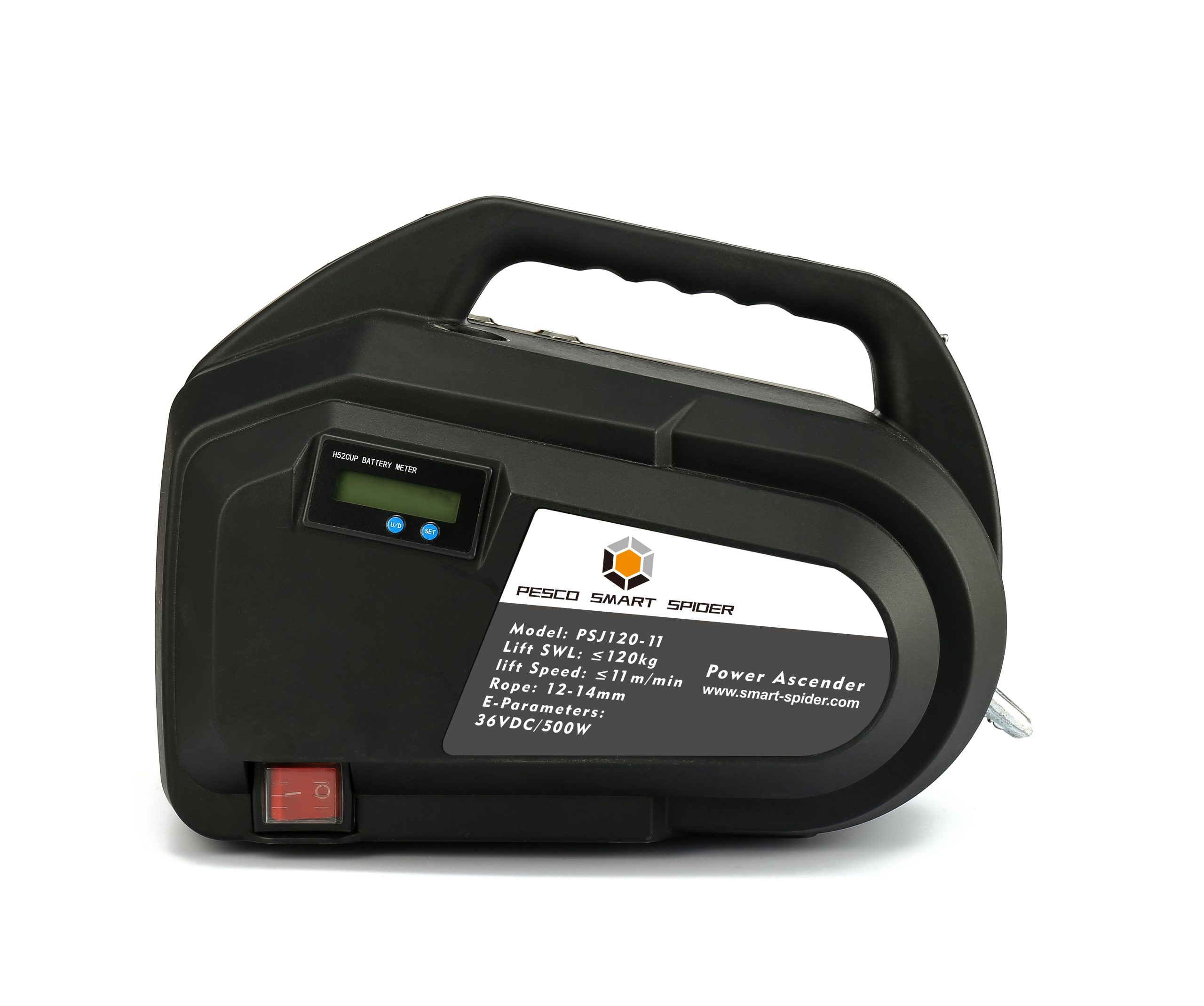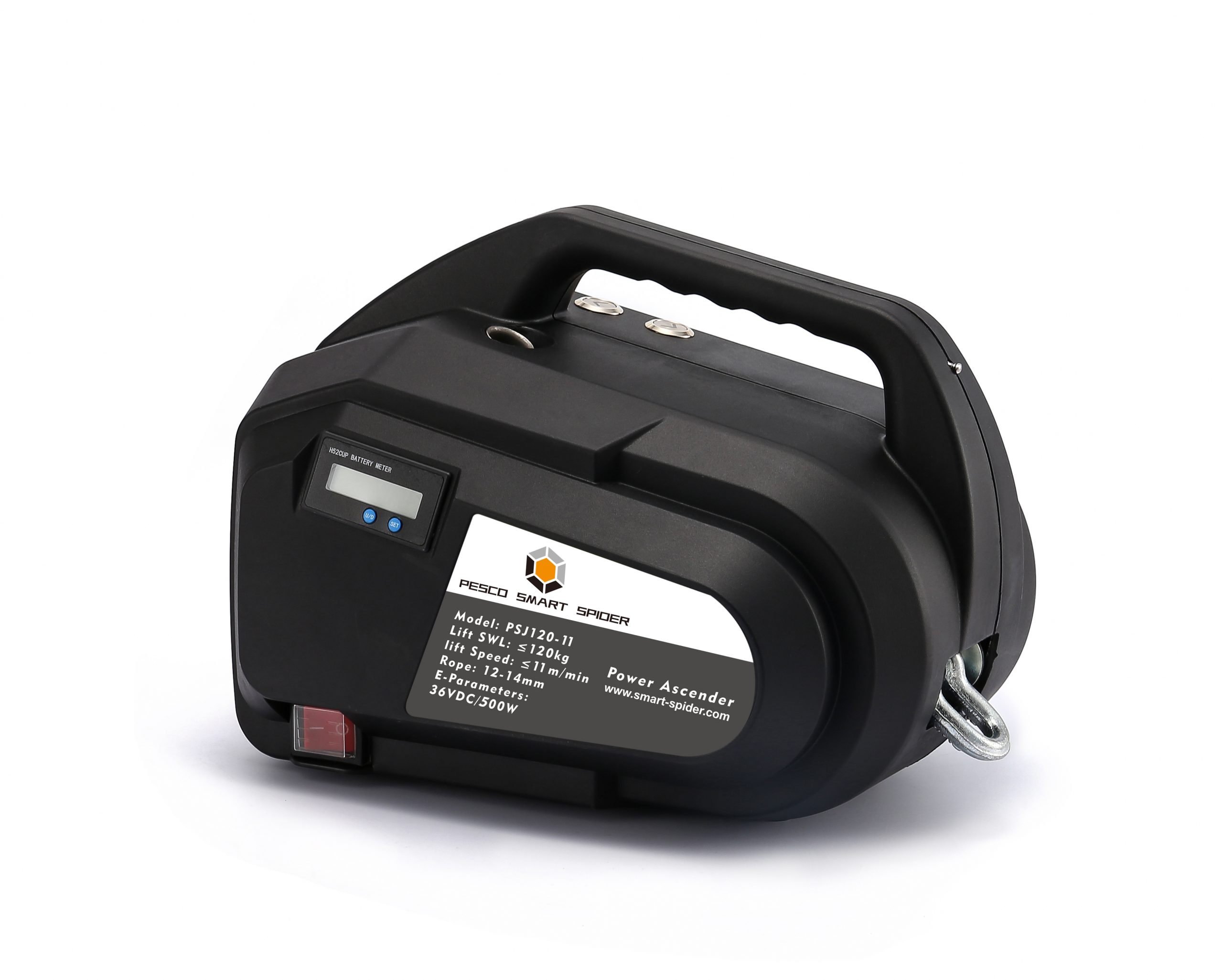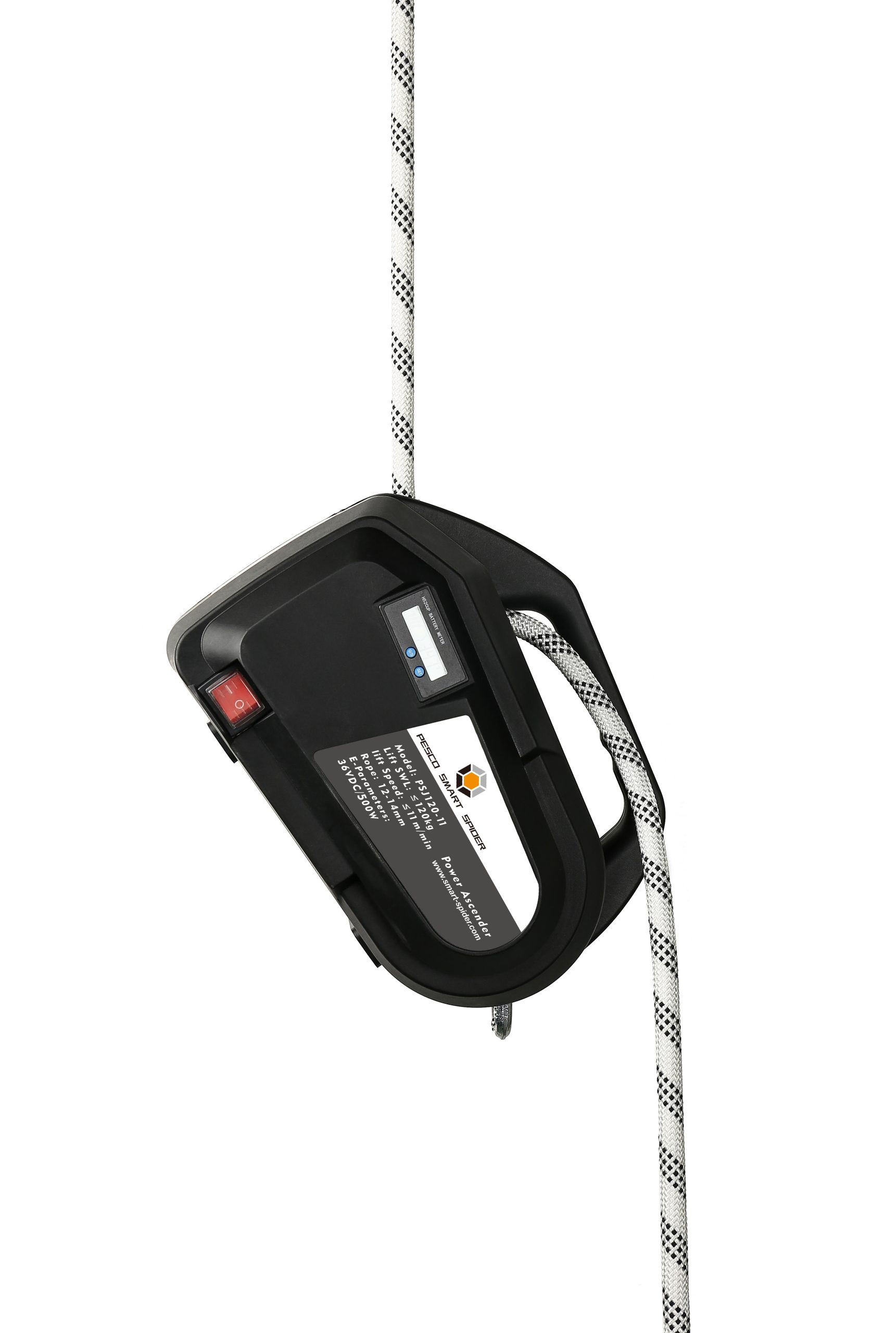 As to PESCO Smart Spider Powered Ascending Device PSJ120-11, the 12.5mm version is for the main climbing wire and the 11mm is for the fall arrest wire. This rope has a braided sheath (jacket) on the core (core), and the core is made of parallel untwisted fibers. Static ropes have low stretch (3% to 5% stretch). The core bundle contributes to most of the strength of the rope. The load-bearing fibers are located inside the rope and are protected from abrasion by a tightly woven sheath. The core bundles are continuous in length and run in parallel, which not only reduces stretching but also eliminates rotation when in the air.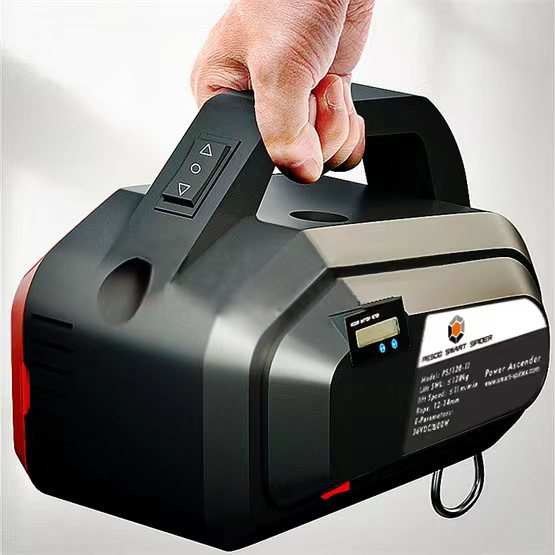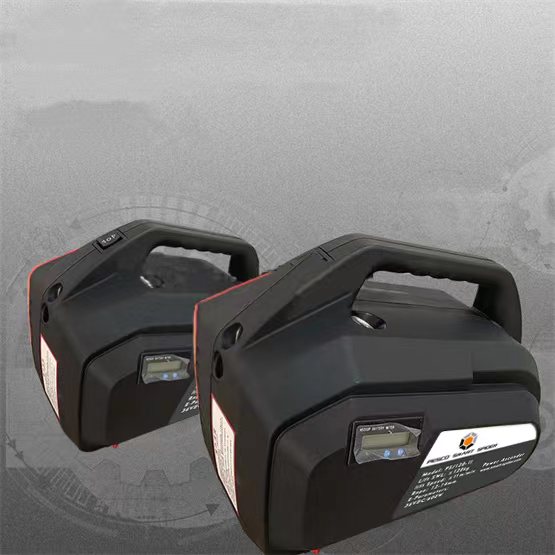 The Operation of the rope entrance-exit on PESCO Smart Spider Powered Ascending Device PSJ120-11, and the device ascending-descending
1) Check whether the shell of the ascender device is intact, whether the voltage and power of the battery are normal;
2) Turn on the remote control switch and check whether the battery is normally charged;
3) Ensure that the higher altitude rope is fixed safely and firmly before use;
4) Put the rope into the entrance and press the "up" key. The rope will automatically enter the ascender entrance and come out of the ascender exit.
( Please note: If the rope or some other objects touch or be near the limit switch ( the distance is 10-20cm), it will stop the rope enter the ascender device entrance. So, when the rope is entering the ascender device, please do keep nothing touching or near the limit switch ( the distance is 20cm);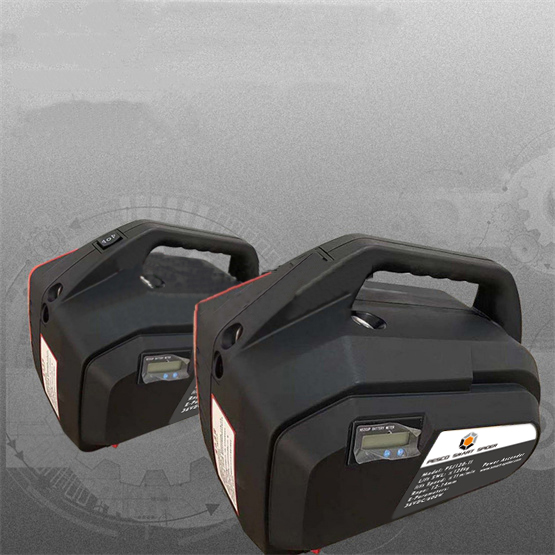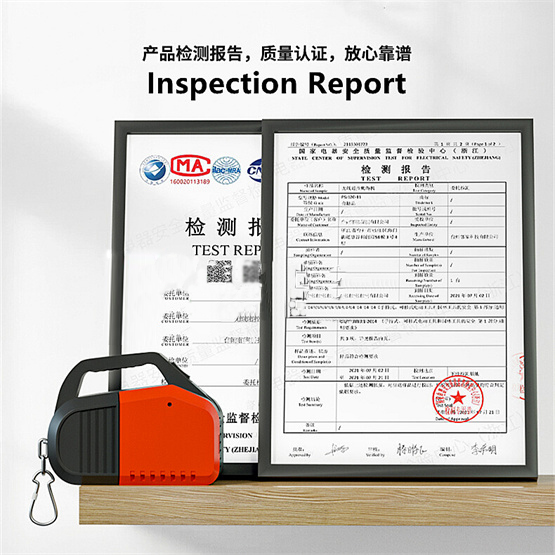 5) The "up" and "down" keys on the remote control can lead the device to ascend or descend. If you release your hands, the power and the device will be cut off and stop automatically, which can ensure the safety of the lifted climbers or objects without sliding in the height;
6) During the ascending process, when there is some object close to the limit switch ( the distance is 20cm), the machine will stop working automatically. After the object is removed, the device will work continuously;
7) The standard environment temperature of the PESCO Smart Spider Powered Ascending Device PSJ120-11 application is -25 ℃ to 40℃. The designed maximum loading capacity of the device is ≤ 225kg, and the actual safety loading weight is as the followings: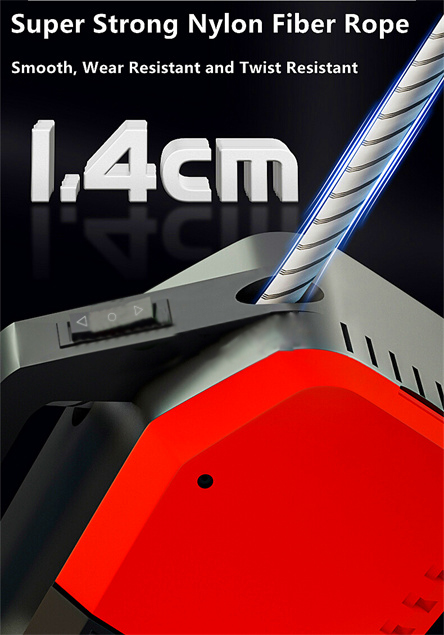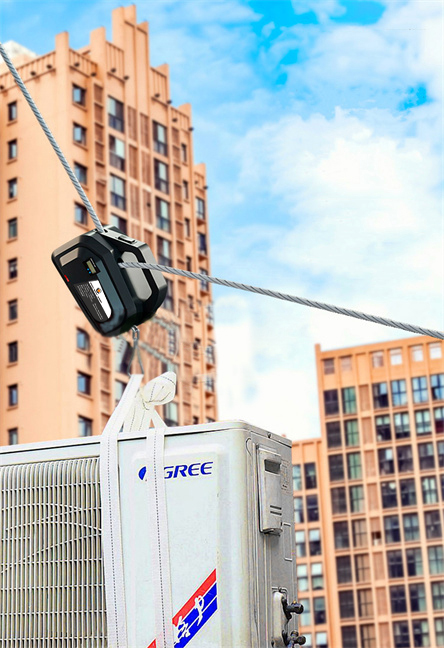 Headquarter: A-4F, Vantone Center, A6, Chaowai St., Chaoyang Dist., Beijing, China.
Tel/Fax: +86 10 8599 9168
Whatsapp/Wechat: +86 134 3633 4453
Email: sales@smart-spider.com, jackywinn@foxmail.com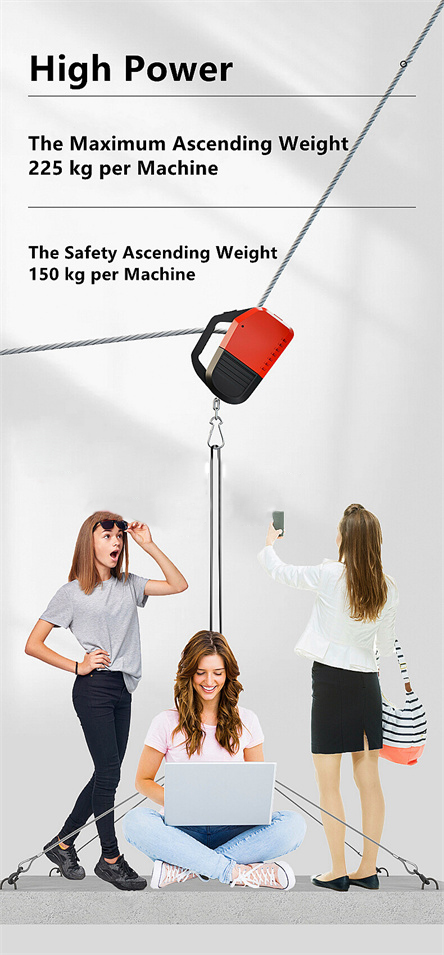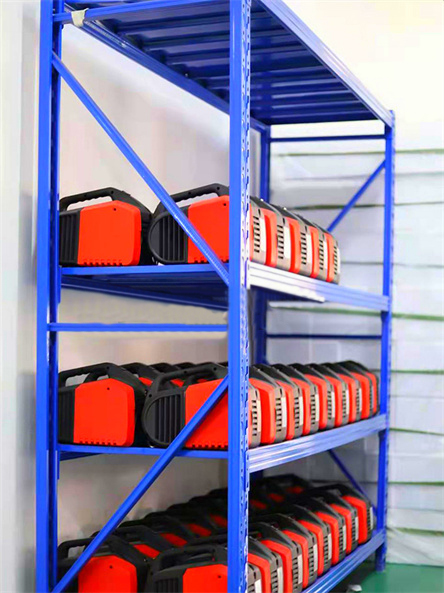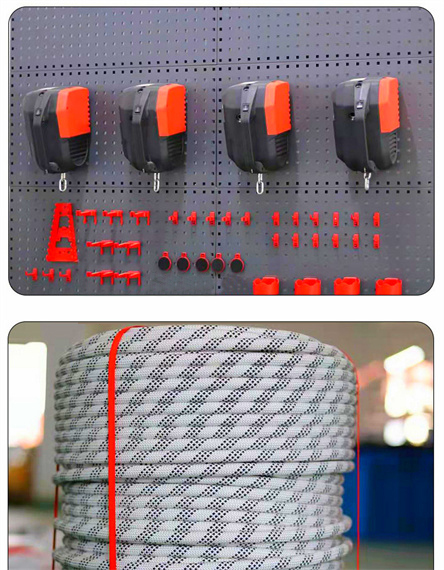 The reference technical links of the PESCO Smart Spider Powered Ascending Device PSJ120-11:
https://www.smart-spider.com/product/powered-ascender-pesco-smart-spider-psj120-7
https://www.smart-spider.com/product/pesco-smart-spider-power-ascender-psj120-8
https://www.smart-spider.com/product/pesco-smart-spider-lift-power-ascender-psj120-14-for-irata-rope-access